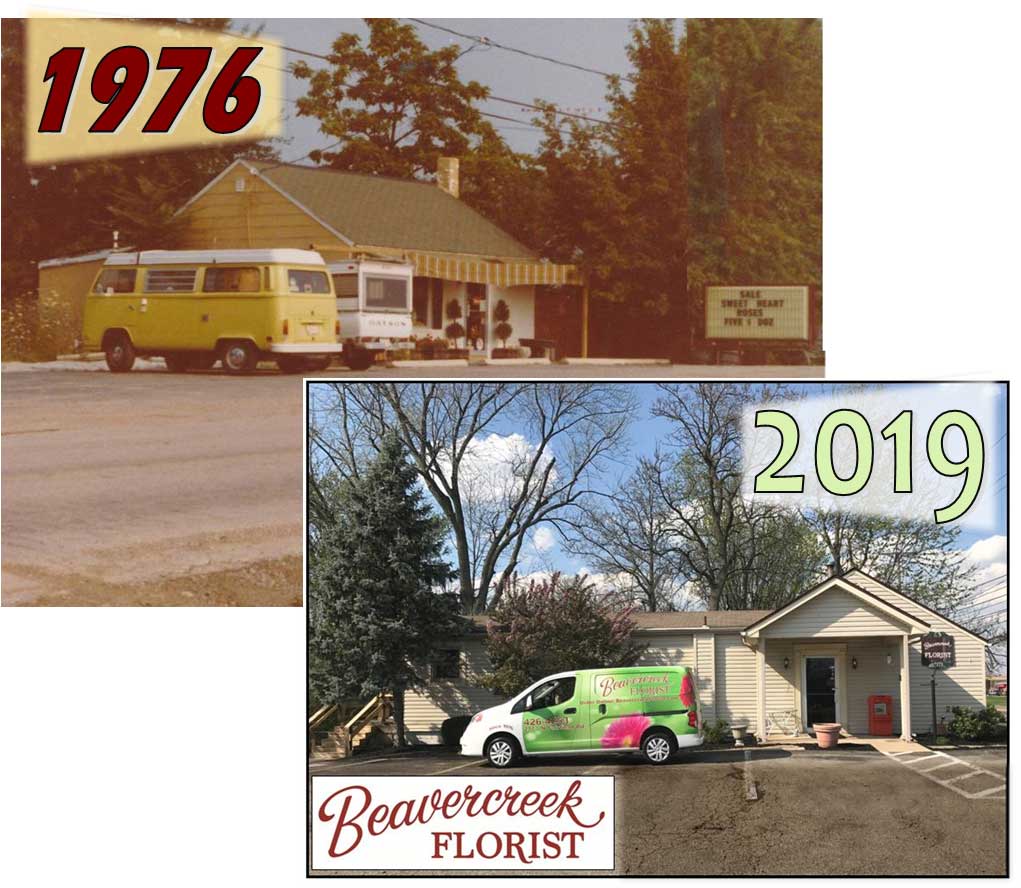 As Beavercreek's only local florist, we have been Veteran owned since 1976. We provide quality all occasion Floral Designs, Afghans, Garden Stones, Angel Items, quality Wind Chimes, Gorant Chocolate (made in Ohio), and other gift items in our shop.
Flower and gift deliveries are made daily to the Beavercreek, Kettering, and Dayton, OH areas. All products come with our 100% Satisfaction Guarantee.
Our shop is located a half mile from the Fairfield Commons Mall and Soin Hospital, as well as about two miles from Wright State University. To thank those who serve, we offer a 10% military discount on in shop purchases and local delivery orders.
Fresh, beautiful floral designs fill our cooler everyday! We cannot show you all our selections here on our website, so please call us for more custom designs. Toll free: 1-888-216-4253 or locally at 937/ 426-4253.
Store Hours: Monday - Friday 9:00 am to 5:00 pm, Saturday 10:00 am to 3:00 pm. Closed on Sundays.
Our shop will always be closed on the following: New Year's Day, Easter, Mother's Day, Memorial Day, Father's Day, Independence Day and Labor Day, Thanksgiving Day, and Christmas Day for our employees to enjoy the holidays.
Why Buy From Us?
As a veteran owned business for 40 years, we work hard every day to ensure your satisfaction. When compared to all other ways to purchase fresh flowers; grocery stores, 1-800 numbers, street vendors, etc, we feel that we can best handle your floral and gift needs. Dollar for dollar, we truly offer you "Affordable Flowers for Priceless Feelings."

We deliver daily to the surrounding area including most of Dayton, Fairborn, Kettering and area hospitals. For out of town orders, with Teleflora and Beavercreek Florist, your order is always sent with a 100% Satisfaction Guarantee, anywhere in the U.S. and Canada. We help people to make a special delivery when sending flowers, plants, stone angels, wind chimes and other gifts as well as balloons or Friesinger's fine candy.

The collection on our site offers a variety of styles and prices making it simple to send flowers appropriate for the occasion & priced right too. Call us today TOLL FREE at 1-888-216-4253 or order Online by using the pull down category menu at the left side of each page.

Quality Commitment
"Affordable Flowers for Priceless Feelings" is our motto at Beavercreek Florist. We work hard to bring you the most beautiful, colorful and long lasting arrangements possible.
Dealing with only the best wholesalers in the industry, we can deliver the highest quality flowers your money can buy arranged by a trained staff of professional designers. There are many places that you can pay less for flowers and through 1-800 numbers, places you can pay much more, but dollar for dollar, we truly believe that every day we offer the most "Affordable Flowers for Priceless Feelings".
At Beavercreek Florist, we help to make the gift of flowers, plants or balloons special. The collection on our Internet site offers a variety of styles and prices making it simple to choose and send flowers that are both appropriate for the occasion and priced right too. The selections on our site are somewhat limited though, so please call us for special requests toll free.
Call us today TOLL FREE at 1-888-216-4253 or to order Online, select a category above and select 'Search'.

How 1-800 Numbers Cost You
Most people think that 1-800#'s are OK to use for convenient flower deliveries and gift ordering.
In reality, even using their $$ Off Coupons, they cost you more and complicate things for you if there are problems.
Read on to get the real story:
You click an online ad or simply place a call to a 1-800 number from the local Yellow Pages for delivery flowers. They are more than happy, from wherever you called,
to take your order because they don't to clean, arrange or even deliver your flowers… They don't even own a cooler. You reached a 'Call Center'--NOT a real florist.

Known in the industry as "Order Gatherers" these can be shops or people trying to make money with just an e-business. Inmost cases, however, they are large companies
and frequently con artists praying on consumers' naiveté in order to make a buck.
How they do it:
They simply send your order, via phone or computer, to the delivery area and a local real florist (usually NOT us since we do not accept their orders ) makes and delivers the arrangement. They keep the outrageous "service fee" that you pay.

Incredibly, they get percent of the order value AND a rebates of up to $4.95 from the wire service AND a percentage (usually 7%) is taken out from the order to the wire service as well. The local florist who receives that order is then obligated to fill to the flowers to full value, and frequently does so at a loss.

The service fee they collect is as much as $14.99 ! They also typically charge you way more for balloons, candy or other add-on items too!

Sound crazy ?!?!

Yep, that's why we send your orders through Teleflora for just $5.95 when you call us.

Our entire $8.95 delivery goes to the other florist on your behalf so money is not taken out from the flowers.

Floral order and 1-800 senders may send $3.00 of the delivery/service fee, ( OR NONE ) just pocketing the rest! So call us when sending local OR out of town. We've been serving you 40+ years.
Hospital Deliveries
We deliver get well flowers and get well gifts to the following Hospitals in the Dayton and Kettering area:
Soin Medical Center - Beavercreek
Children's Hospital - Dayton
Hospice - Dayton
Kettering Hospital - Kettering
Miami Valley Hospital - Dayton
Southview Hospital - Dayton
Funeral Home Deliveries
We deliver sympathy flowers, sympathy sprays, plants, throws and afghans, casket adornments, dish gardens and sympathy arrangements daily to the following Funeral Homes:
Belton-Stroup - Fairborn
Burchams - Fairborn
Harris - Dayton
Magetti / Gavin- Dayton
Meyer, Bohmer, & Reis - Dayton
Morris & Sons - Kettering, Dayton & Fairborn
Newcomer - Beavercreek & Kettering
Routsong - Kettering, Dayton & Centerville
Tobias - Beavercreek, Dayton & Kettering
Westbrock Funeral Home - Dayton